1. FITTING PRESSURE AND DIMENSIONAL CHANGES OF INNER AND OUTER RING
The right fit for each application is established taking various condetions into consideration such as load, speed, temperature, mounting dismounting of the bearing. The interference fit should be greater than normal in thin housings, housings of soft material or on hollow shafts.
2. LOAD OF INTERFERENCE
The interference fit of shaft and inner ring decreases under radial load. The decrease in fit of shaft and inner ring is calculated by the following formula:

3. INFLUENCE OF TEMPERATURE ON BEARINGS, SHAFTS AND HOUSINGS
Each inner ring, outer ring or rolling element of a bearing rotating under load generates heat which will affect the interference fits of the shaft and the housing. Assuming a temperature difference within the bearing and the housing of T(), that of the mating surface of the shaft and of the bearing is (0.100~.15) T.
Consequently, dr, the decrease of the inner ring interference fit due to temperature change, is calculated from the following formula: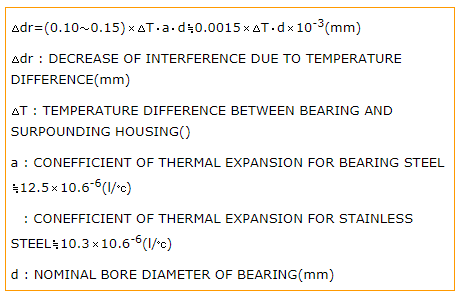 It should also be noted that fit can increase due to temperature changes.
4. EFFECTIVE INTERFERENCE, SURFACE ROUGHNESS AND ACCURACY
The surface is smoothed during fitting and the effective interference becomes smaller than the theoretical interference. The surface quality of a mating surface has an influence on how much this theoretical interference decreases. Effective interference can usually be calculated as follows:

By combining these factors, the theoretical interference fit required for inner ring and shaft where the inner ring is subjected to rotating load is calculated as follows:

Normally, shaft and housing seats have to meet the accuracy and roughness requirements as given below.