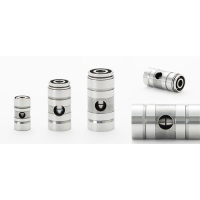 Ceramic Turbocharger Ball Bearings are of the angular contact type. Typically, these bearings utilise ceramic balls, cages, anti-rotation devices, an outer ring, a compressor inner ring, a turbine inner ring and a series of oil flow control jets or squeeze film dampers. These types of bearings rotate up to six times faster than any other vehicle bearing. In hot shutdown conditions, these bearings can also reach temperatures of up to 400 degrees Centigrade. The bearing is designed to be cooled by the lubricating oil flow and the bearing materials must resist extreme conditions at all times over the complete life of the turbocharger.
Product Benefits
The turbocharger bearing has to operate at speeds of up to 150,000 rpm
Using this high-performance cartridge bearing will improve the response of turbochargers.
This makes it possible to further expand the use of turbochargers, thereby it will improve the fuel economy of automobiles.
LILY P/N
I.D./Bore
O.D.
OverallLength
Detailed Dimension
Photo
Application
LILYTB001
8mm
22mm
53.73mm
GT25R.28R.30R.35R
GT28,GT30,GT35
LILYTB002
8mm
22mm
42.50mm
GT25R.28R.30R.35R
LILYTB003
8mm
22mm
49.23mm
GT25R.28R.30R.35R
LILYTB004
10mm
28mm
55.20mm
GT/GTX37/40
GT/GTX42/45
GT37,GT40,GT42,GT45
LILYTB005
6mm
18mm
34.20mm